On 9 November 1991 Mato Čorković, Rudolf Dudović, Ivan Galeković, Josip Martello, Berislav Majdandžić, Branko Sabolić and Pero Spajić of the 127th Virovitica Brigade of the Croatian Army were killed during the defense of the village of Kravljak located between Daruvar and Virovitica.
The rebel Serbs did not come to terms with their defeat in Operation "SWATH 10". In the evening of 9 November, special units of the rebel Serb police and members of Serb paramilitary forces passed through their minefields between the villages of Removac and Gornja Cjepidlaka as well as between the villages of Kravljak and Mala Klisa, got behind the units of the 127th Croatian Army Brigade and then ambushed them. Once the saboteurs were in place, Serb forces in Velika Klisa launched an attack in the early morning hours with the aim of capturing the Kosinj heights and pushing the Croatian forces away from Đulovac. The entire territory from Velika Babina Gora to Kravljak was defended by approximately one hundred members of the 127th Brigade, mostly people from Lukač, Turanovac, Okrugljača, Bušetina and Virovitica.
Josip Martello, Mato Čorković and Ivan Galeković were the first to be ambushed on the way from Kravljak to Mala Babina Gora. A group of Croatian defenders went to the aid of their comrades after hearing gunfire but they were also ambushed. Berislav Majdandžić, Rudolf Dudović and Pero Spajić were killed following a fierce battle. Heavy fighting also took place near Mala Babina Gora itself where Branko Sabolić was killed.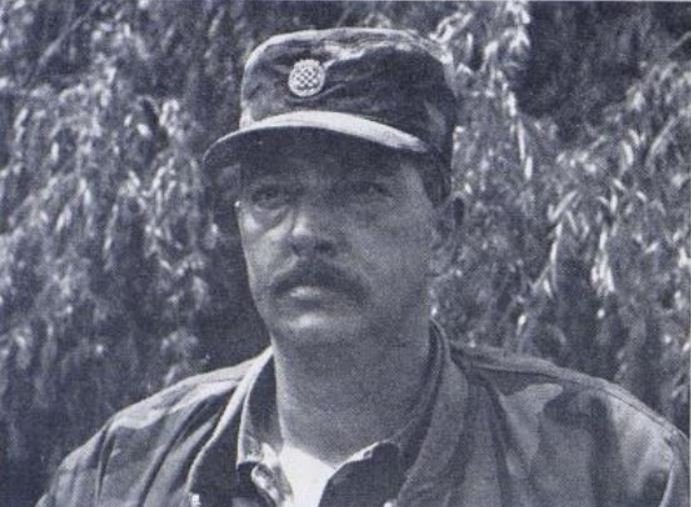 It was here that I experienced my first firefight. I received an order from Berislav Živković to go to the next trench and see what happened to my colleague. Branko was hit in the head and was dead. We were surrounded and the Chetniks advanced from a farm in Mala Babina Gora and hit us with everything that they had. At that point, Grga and our barber little Ljerko ran up to me and the Chetniks were already in front of the battlement where Branko lay. One of their bombs fell right on little Ljerko's legs and as I shouted at him he threw himself into the bushes and the bomb exploded without injuring any of us. As we pulled out our dead colleague we then retreated to our reserve position. We spent all day in the yard of a house pinned down by heavy enemy fire. It was only in the evening when Romić's boys arrived with two tanks that they managed to break the siege and allow us to pull out all the dead and wounded.

Jerko Lovrić Jera, member of the 127th Croatian Army Brigade
This quick intervention by members of the "A" Company and the 1st Company of the 1st Battalion of the 127th Brigade with armoured reinforcements led by Renato Romić and Zvonko Kožnjak allowed for besieged defenders to be withdrawn and re-established the front line to what it was prior to the attack by Serb forces.
Sources
Literature
Martinić Jerčić, Natko. "Ratni put 127. brigade HV od osnutka do Sarajevskog primirja". U: Domaći znanstveno stručni skup s međunarodnim sudjelovanjem. Virovitica u Domovinskom ratu., urednik Miljenko Brekalo, 269-304. Virovitica: Državni arhiv u Virovitici, 2018

Periodicals
Vampovac. Željko. "Srcem protiv sile". Virovitički list (Virovitica), 11. lipnja 1993, 23.
Božić, V. "Četnici nisu prošli". Virovitički list (Virovitica), 15. studenoga 1996, 17.

Internet
Informativni centar Virovitica: "U četvrtak 9. studenog obilježavanje 26. godišnjice stradanja hrvatskih branitelja i civila u mjestu Kravljak",access achieved 22 October, 2019, https://www.icv.hr/2017/11/cetvrtak-9-studenog-obiljezavanje-26-godisnjice-stradanja-hrvatskih-branitelja-civila-mjestu-kravljak/
Graduated with a Master's Degree in History from the University of Zagreb. He has worked at the Croatian History Museum and as a researcher for the popular TV Calendar program for Croatian Radio and Television. He has authored several books and documentaries about Croatia's Homeland War and is the creator/producer of the immensely popular "It Happened on this Day – Homeland War" Facebook page as well as the online portal Domovinskirat.hr. Borna also is the host and editor of the daily segment "Patriotic Minutes" on Croatian Catholic Radio. He created CroHis to promote the values of the Homeland War and ensure that the sacrifices of those who defended Croatia's independence would not be forgotten.